Space Planning Your Home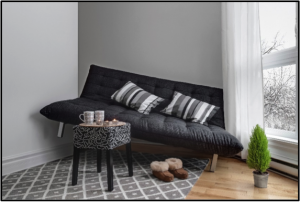 How is your home's functionality and flow? Do your guests have to shout across the room or readjust seating to engage in conversation? Do your dining chairs pull away from the table with enough space to get in and out? Does your home feel more like a maze or an obstacle-course?   Most of these problems have to do with the wrong size furniture, or the incorrect placement of furniture.   It could be time to consider doing a little thoughtful space planning.
START AT THE BEGINNING
Like most things in life, starting with the most logical first steps will make your space planning efforts pay off. Consider first, the "3-F" plan.
FUNCTION
What is the function of this room? Does it serve one primary need (i.e. the dining room) or does it have a multi-functional use (like a great room, that can be used for gaming, informal dining, reading, etc.)? Also, consider how many people will be using the space and for what purposes?
Now that you've done that, plan for optimal flow. This means walkways should be at least 30" wide to comfortably navigate from one area to the next. If there are special needs accommodations (for example wheelchair access) plan for wider 42" walkways. Also, if you've noticed permanent marks on your knees from banging into your coffee table, it's possible that you have less than the recommended 12" between sofa and coffee table, which allows for clearance as well as comfortable reach.
FURNITURE
Your ultimate goal in space planning is to create comfortable movement and flow. Transforming an illogical space into one that the mind perceives as orderly and balanced can be achieved with the proper size and placement of your furnishings.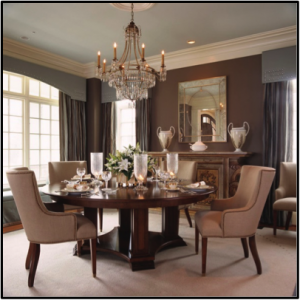 You'll first want to decide which of your existing pieces you want to use in the space and which pieces can be discarded or used in other areas of your home.
You'll also need to know exactly how large your room is. When space planning a dining room for example, minimum space around the table is 24-30". Knowing the size of your room and the proper clearances should help you determine if your existing furniture is the right size for the space. It will also help you know exactly what size furniture you should purchase.
FOCAL POINT
 Plan around the room's focal point, in other words what you notice first in the room. Is it a fireplace? A built-in bookcase? Plan around them by not placing furniture in a way to obstruct these interior design gifts, otherwise, you'd actually be planning to take the focus away from them.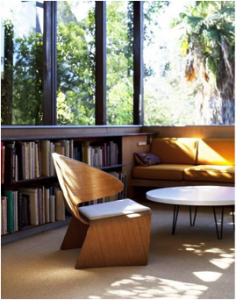 If your room is void of architectural details such as these, turn your focus onto how much natural light is available from windows. Beautiful windows such as those installed by California Deluxe Windows are clearly the perfect focal point. So take advantage! Allow these windows to stand out even more by working your space planning around them and the views they give.
Once you've gathered your thoughts, you can start your actual plan on graph paper or computer software. Remember, the purpose of space planning is to maximize your room's function, showcase its assets, and increase its style and flow.