So, you've decided to replace those old drafty and single hung, single paned windows with modern vinyl made Casement Windows that easily open and close. However, where you place your windows is also important. 
For example, you don't want a panoramic view of some trash cans or a front-row seat to a drama taking place in an alley. The type of windows you install and where you place them is an important consideration as well.
New casement windows can maximize light, frame enviable vistas, and become the architectural highlight of your space. They also add to a home's curb appeal. Just make sure you place them where they will provide these advantages.
Benefits of Casement Window Upgrades
So you want to let some light in and get a view? Do you live in an older home? If so, these hinged windows are great at catching breezes and offering natural light. Below are some more perks the windows provide.
The Perks
Ventilation.

Again, throw open those casement windows and enjoy some fresh air. Casement windows give you full access to the great outdoors.

Views.

With casement windows, you can open nearly the entire window space, so your panorama possibilities are endless. Say goodbye to a lackluster view and hello to a wider world of greenery.

Energy efficiency.

When closed, casement windows seal up tight, so your heating and cooling costs stay under control. When they're made of vinyl and double-pane or triple-pane glass, they last longer, reduce utility bills, and muffle outdoor sounds as well.

Easy cleaning.

Casement windows open a full 90 degrees, so you can easily reach the entire window surface and clean it. No more straddling a ladder or dangling from a harness to merely

Clean your Windows

. They are quicker and safer to maintain.
Casement windows bring brightness, vistas, efficiency, and simplicity. 
Key Factors to Consider When Choosing Casement Window Placement
When you're installing windows of any kind, you need to consider the view and sunlight exposure. For example, block glass or stained glass may be better if the view is less than spectacular or your window is facing a nosy neighbor's patio.
What is great about casement windows is that they allow plenty of natural light to stream into your home. Therefore, you'll want to use them in places where you have a northern exposure – great for reducing your energy costs during the winter months. Plus, you'll reduce the artificial light you need to use wherever they are installed. 
Installing Casements to Frame a View
Casement windows are great to add on either first or second floors, especially if you have a Craftsman style home. They also look great on Victorian houses or Mission designs. 
Some people wonder if you can mix window styles. Yes, you can! After all, casements do not fit into all the spaces around your house. You can have a combination of window types in a small room or in a house's corner – all which makes everything more interesting. 
For instance, it's perfectly acceptable to use both double-hung and casement windows on one side of your home. When you choose windows with liquid wood or vinyl, you'll ensure their longevity and ease of maintenance as well.
If your home's exterior is rather drab, a casement window will give it life. Change that sad-looking facade into a small palace overnight.
Making the Most of Light
Below are suggestions on placing casements so you receive the most benefits when it comes to natural light.
Put them up high.

Install casements up high on walls, near the ceiling. Hot air rises, so your heating and cooling efficiency will improve. 

Group them together.

For major illumination, install three or more casements together – in a row. Open them all up and instantly transform a dim room into a sunroom.

Angle them out.

Casements that crank out at an angle, rather than just swinging out flat, can reflect more light into a room. The angled glass acts as a natural reflector, bouncing sunlight into shadowy corners.

Consider hoppers too

. For spaces like basements, pair inward-opening hopper windows with outward-casements. The hoppers scoop in light at the bottom, the casements release it up high.

Splurge on low-E.

If heating and cooling costs are a concern, choose casements with low-emissivity coatings which block out heat transfer. You'll enjoy the views and natural light without sacrificing energy efficiency.
When it comes to maximizing natural light in your home, well-placed casement windows are key. Group them, angle them out, put them up high—do whatever it takes to usher in the sun so you can bask in the glow. Your space and your mood will brighten at the same time.
Complementing Your Home's Style With Casement Windows
South-facing walls get the most sun exposure, so casements here will flood your space with natural light. If you've got a lovely view of the lake or garden, casements provide an idyllic frame.
For energy efficiency, casements on east-facing walls let in the gentle morning light. If resale value or curb appeal is a concern, highlight the front of your house with a few well-placed casements. They really highlight the designs of cottage style houses, bungalows, or Cape Cod designed homes.
The hardware used on casement windows also provides opportunities for customization – from minimal hinges to decorative crank handles.
With strategic placement and the right hardware, casement windows are the perfect way to maximize light, leverage lovely views and add visual interest to your home's facade. Let the sun shine in!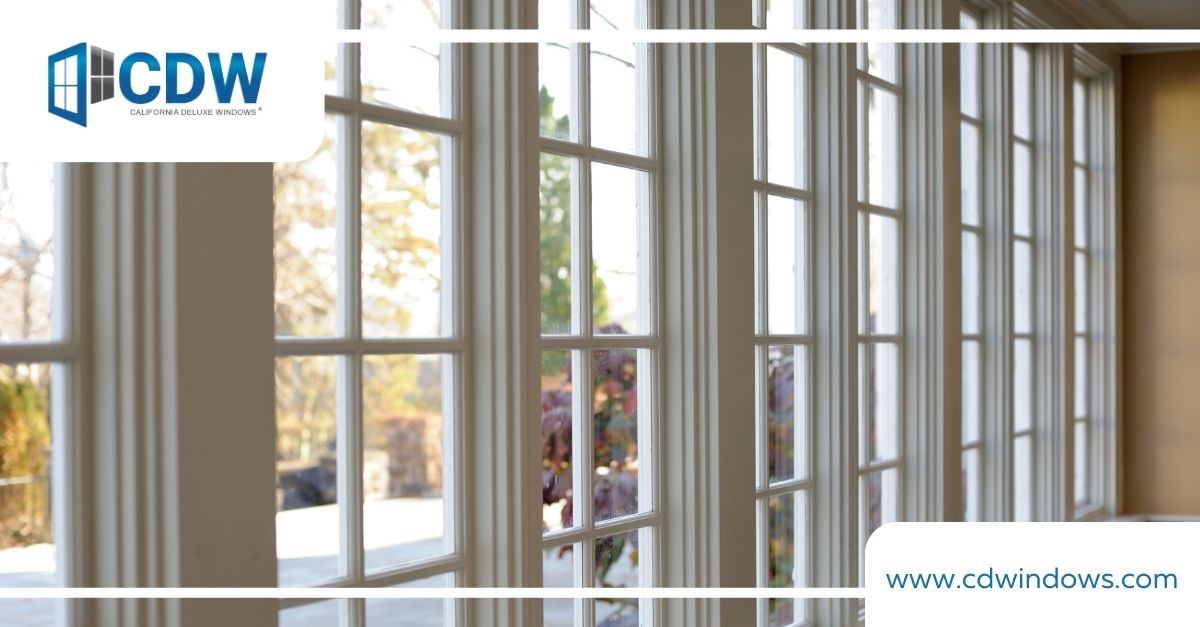 Contact California Deluxe Windows Now
To learn more about a casement window upgrade or consider other window styles, such as single- and double-hung windows, bow windows, as well as customization, contact California Deluxe Windows for all the details.