THIS CUSTOM WINDOW DESIGN IS GOING TO REPLACE AN OLD GARDEN WINDOW IN A KITCHEN IN RANCHO PALOS VERDES, CA. IT IS A CURVED PANORAMIC DUAL PANE WINDOW, WHICH IS ASS ENERGY EFFICIENT AS ANY OTHER VINYL WINDOW PRODUCT.
Congratulations to us! California Deluxe Windows, the most innovative window company in California, perhaps anywhere, came up with another magnificent, superb, jaw-dropping (please forgive us for bragging, we are just so excited) window that will make a huge difference to the homeowners of California. It is so beautiful that it makes the house look magnificent and the best of it is that it's made with the same craftsmanship and quality that made CDW famous. It still uses the same dual pane highest-rated energy efficient glass and it is self-cleaning top it all off! Now imagine looking out at a beautiful panoramic view through this always-clean window with no scorching heat or loud noises coming in. Installed photos coming soon. For more innovations like this, visit this page next week.
CURVED PANORAMIC DUAL PANE WINDOW – EXTERIOR VIEW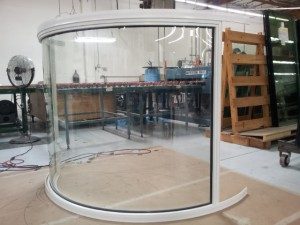 CURVED PANORAMIC DUAL PANE WINDOW – INTERIOR VIEW
Visit www.cdwindows.com for more information.