NEXT SEASON, FIRE SEASON!
WAYS TO PROTECT YOUR CALIFORNIA HOME
FROM WILDFIRES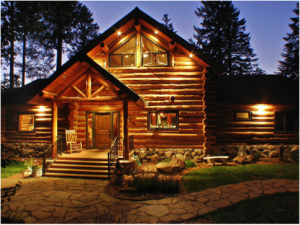 There are many perks to living in California, namely the incredible landscape – Beaches, lakes, mountains, you name it! But there is also a downside, especially if you live in one of the mountainous regions – Seasonal wildfires. Some are man-caused, some are not. The cause is rarely the concern if your home is in its path. Luckily, we can all be proactive in protecting our California homes long before fire season ever arrives.
HOME INTERIOR
It's prudent to implement fire prevention tips whether you live in a wildfire prone area or not. A few of the basic ones that require attention inside your home are:
Limit the number of appliances that are plugged into an electrical outlet.
Discard all electrical and extension cords that are damaged or frayed.
Remove combustibles that are near anything the emits heat (i.e. heaters, fireplaces, stoves, etc.). 
 Fire Extinguishers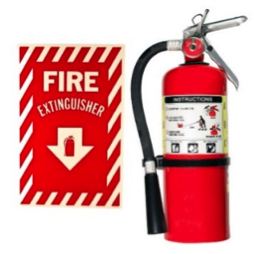 It's highly recommended that fire extinguishers be kept on every level of your home, particularly the kitchen, basement and garage. They are the perfect tool to keep a small fire from becoming a big one. If kept handy and used properly they can be very effective. However, make sure to select the right kind of fire extinguisher. Different types of fires require different types of extinguishers.
HOME EXTERIOR
Of the nine wildfires currently burning throughout our nation, seven are in California. These fires can be destructive to life and property, which is why it's imperative that we are pro-active California homeowners when it comes to protecting the exterior of our homes.
Firewood & Trees
Sparks from a wildfire can easily light firewood piles. So, as convenient as it may be to have it next to your house, remove it. It can easily ignite your home.
It's imperative to remove dead vegetation from around your home, as these fuel the fire.
Evergreens trees are also convenient and beautiful, but also highly flammable.
With all trees make sure you maintain a least a ten-foot space between the crowns (branches of nearby trees) to prevent fire from jumping through the crowns. Also, maintain the same 10-foot distance from your home for all trees even if it means you have to remove a few. You'll rest easier when you do.
Access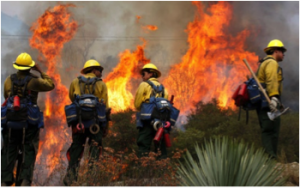 Access Defensible space around your home increases its chances of surviving a wildfire. Accessibility (including signage if you're located off the beaten path) affects how easily firefighters can reach your home to protect it, as well as bring in large emergency vehicles.
Fire Resistant Materials
Keeping your roof fireproof with using flame retardant materials is crucial. Ash that lands on a roof made of wood shingles or other combustible materials can actually start a fire even if the fire isn't near your home yet. You'll find that shake roofs shake out the best.
As far as the rest of your home goes, Coolwall by Tex-cote of
America is a fire resistance exterior home treatment that looks the same as your original finish. The technology that makes the COOLWALL® coatings is based on heat reflective technology developed to reduce the heat signature of military aircraft and other vehicles. Additionally, it's backed with a limited manufacturer's warranty on materials for as long as you own your home.
The good news is you don't have to live each year on pins and needles. Just take a few precautions and you can continue to enjoy living in one the most beautiful states in our wonderful country.
For additional general fire safety tips click here – http://www.redcross.org/get-help/prepare-for-emergencies/types-of-emergencies/fire/prevent-home-fire