HERE YOU WILL FIND NEW WINDOW STYLES, UPGRADES TO EXISTING STYLES OF VINYL WINDOWS AND DOORS, AND NEW WINDOW AND DOOR INNOVATIONS IN CUSTOM WINDOW MANUFACTURING.
We are extremely proud to present to you our latest creative breakthroughs with vinyl windows! These two window styles shown below are the first dual pane vinyl windows to be made of their kind.
SEAMLESS CORNER WINDOW
Exterior View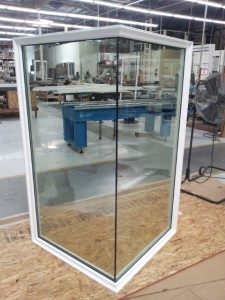 Seamless Dual Pane Corner Window – Interior View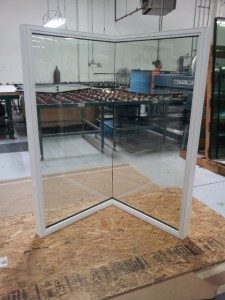 The most interesting part of creating this window was how to create a perfectly seamless corner with no frame. We had to use extreme precision since the double pane IG unit would have to have two different sizes of glass for each side of the corner. These two angled IG units then has to seamlessly join while still providing the full security and stability of our more conventional windows. We had just an amazing time putting this creation together.
CURVED FRENCH DOOR
Curved French Door – Pre-install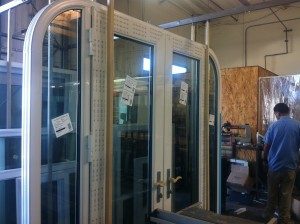 What Inspired this design was the fact that the home had an old fashioned arch window in the same opening we turned into this curved French door. Our homeowner wanted to know if it was possible to create a French door system without resizing the opening that the current arch window is in. Instead we adjusted our French door to fit exactly in the existing opening without cutting any stucco around the curves.
Visit www.cdwindows.com for more information.