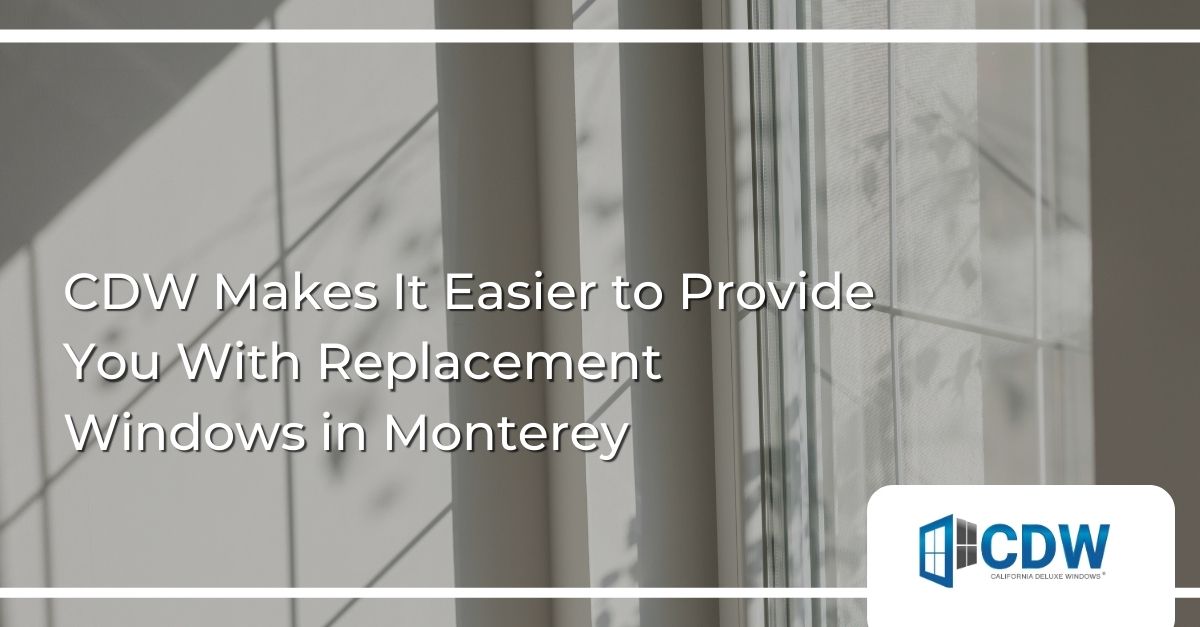 CDW Makes It Easier to Provide You With Replacement Windows in Monterey
There are a lot of benefits to choosing custom replacement windows in Monterey. If you're ready to replace your old windows and doors, the first step is to call CDW to schedule a complimentary in-home consultation. 
Consultation is necessary so that our experts can determine exactly what you are looking for before you proceed with your replacement project. When consulting with our experts, we make sure that booking an appointment with us is effortless. 
What to Expect from the Replacement Windows in Monterey Consultation? 
The consultation can run from 30 to 60 minutes. It depends on how complex the project is. Our experts have supervised different replacement projects in Monterey so they can easily understand your project. 
During the consultation, our experts will assist you in finding the best custom windows or doors for your home. They will show you the materials, designs, and color options ideal for your homes. CDW windows emphasize home-efficiency. 
Then, they will measure your windows or doors for exact fit. This is not the same as the ready-made windows from the hardware store. Because they are custom-made, you will no longer experience drafts making your house more energy-efficient. You get to enjoy lower energy bills every month. 
The consultation also includes our experts explaining the installation process. They will talk to you about the hours it will take to install them and the equipment they need for the project to complete. 
A Quote for the Replacement 
After everything has been discussed and our experts have measured your windows, they can give you a quote for the new windows. From there, you can compare our quotes from other manufacturers you wish to hire. 
Designed with Passion 
At CDW, we design our custom vinyl windows with passion. We make sure that they are innovated with purpose and backed by the best warranties in the industry. All of our vinyl extrusions are covered by our full lifetime warranty. The color and laminated vinyl extrusions are covered for 10 years. We're one of the few window makers offering a lifetime guarantee against seal failure. 
Our warranties will guarantee you peace of mind that if anything goes wrong with CDW windows, we'll be there to fix it. That's our CDW promise. This will ensure that every aspect of the process is great. Our designers and builders of our CDW windows ensure that the windows we make for you will add value to your home in Monterey. 
Maintaining the CDW Windows 
One of the many qualms of homeowners is the hassle of cleaning their windows. Cleaning is necessary to ensure that the beautiful appearance of the windows is retained. It keeps your home looking great for many years or decades to come. 
Maintaining them is also easy. There's no need to repaint the vinyl windows because there's no paint that cracks or peels off. With that in mind, you can spare yourself from spending hundreds of dollars repainting them. 
To start your replacement windows in Monetary, please give us a call here: (866) 460-5444.