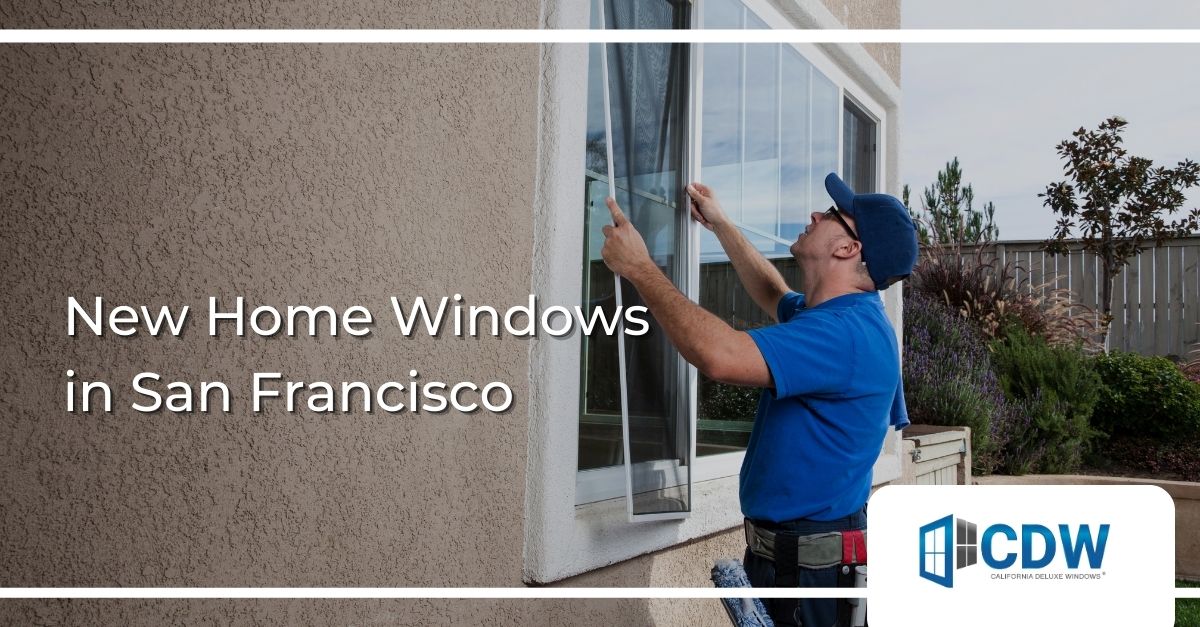 New Home Windows in San Francisco
For many homeowners in San Francisco, replacing their old windows with custom new home windows can be a daunting project. It's something they have not done before. It's confusing because they thought they would need to involve a lot of designers, installers, contractors, etc. That's why California Deluxe Windows is here to take the hassle out of the equation. Whether you want new home windows in San Francisco because you have to or you want to, we can provide you with a custom-designed solution. 
If you are ready to get started, you may schedule your consultation here. 
What are the Reasons You Need
New Home Windows in San Francisco
? 
Make your House More Energy Efficiency 
One of the benefits you can get from choosing CD Windows custom windows is that you can improve your home's energy efficiency. Vinyl windows are more energy efficient than wood and aluminum. You also have the option to make the glass double or triple pane. This is not the same when you get a cookie-cutter window. With custom windows, you can choose the number of panes of glass you want. There's also the option of using argon or krypton. 
Reduce the Drafts and Improve the Comfort of Your Home 
When you choose to replace your windows with ready-made windows from the hardware store, they let in cold air. As a result, your energy bill will suffer. You can fix it by adding new weather-stripping or installing a window draft stopper. However, it's just a band-aid solution. Sooner or later, you'll get drafty windows again. 
The best solution is to just replace them with custom home windows made of vinyl. 
Why vinyl? Vinyl windows are low maintenance. There's no need to repaint it after a few years. Plus, they are easy to clean. They are not made of metals so they won't rust, flake, or corrode. There's also no need to worry about scratches. 
Ensure Your House is Secure 
Custom windows will properly fit the openings. If you choose CDW to make your home windows, you get better security for your house. The vinyl windows here are engineered to pass the forced resistance test. In that case, they are not easy to break into. CDW also offers locking systems that can provide additional security and ventilation catches. 
Lower Outside Noise
Another reason to choose CDW is that our windows can reduce the noise outside. Thus, if you live in a noisy street or if you have a noisy neighbor, the external noise won't get inside your home as much. The windows have a noise reduction feature to cancel out surrounding noise. The lowered noise from the windows will easily put you to sleep at night so you can have a restful sleep every night. 
Beautiful Windows for Your San Francisco Home 
No matter what kind of custom windows you need for your house, CDW can offer you beautiful, energy-efficient custom windows that are guaranteed to look great in your home. Each replacement window is custom-made to ensure it has a precise fit and offers excellent performance. 
Give us a call today to know more about our new home windows in San Francisco. Our consultation is free. Call us here: (866) 460-5444.