You can bask in the warmth of a warm and inviting home atmosphere after Replacing Windows that have fallen into disrepair. No more rattling on breezy nights or worries about weatherstripping. By contacting California Deluxe Windows, you can choose vinyl window designs that are made especially for you. 
Measure Your Windows
Before you embark on any window replacement, you'll need to measure your windows. If you want to make this easy, your window representative will assist you. However, it still helps to know how to take measurements yourself to make sure you're on the same page.
Your windows may have a jamb liner. If so, you need to allow about one-half inch when you're Measuring the Window's Width.In turn, your replacement window should be about 1/4 -inch narrower.
Next, you'll want to measure the height. Most windows feature a sloping sill. So, you'll want to measure the smallest opening at the top part of the sill. Take part in the steps for measuring and acquaint yourself with the window's parts (head jamb and sill) if you want to fully understand how the replacement process works.
Knowing these steps will also help you if you wish to customize your window replacement choices. California Deluxe Windows stands behind its windows because they have undergone safety and quality tests to ensure long-term use and value over time.
Some of the Safety Perks Of Quality Vinyl WIndows
Today's vinyl windows are strong and offer almost maintenance-free care. Just wash your windows monthly. The windows stand the test of time, thanks to their easy-care sashes and frames and non-warping material (polyvinyl chloride) that does not need painting and has termite-resistant qualities.
Other perks make the windows a safe choice as well. The following features underscore why vinyl replacement windows are such a popular upgrade.
Double pane glass

has a strong sealant like polyurethane or silicone to prevent shattering. 

Tough, tamper-resistant window locks and proper installation

in the wall make it harder for intruders to pry or lift the windows open. Professional installation really amps up the security features. So, make sure you take advantage of this service.

Multi-point locking systems with 3-5 lock points per window

discourage any would-be criminals.

And don't forget to ask about the reinforcement of the window frame

itself for added safety. 
No window can completely stop a burglar from entering your house. But if you go for vinyl replacement windows with a solid construction–tempered glass, strong locks, and reinforcements, you'll definitely make your home less easy to access.
With respect to impact resistance, your windows need to be able to handle some serious blows.. That's why it's important to choose windows that have passed rigorous testing standards, especially if you have street-level window upgrade.
At California Deluxe Windows, you can choose from solid vinyl window installations. These windows have been engineered and tested according to the F588-85 test requirements set by the American Society for Testing and Materials. With this designation, you'll receive the best protection for your home. 
Vinyl replacement windows also feature cam locks, great for securing single-hung or double-hung window designs.. They use a pivot mechanism that swivels beneath a stationary locking component, providing as much safety as a security bar.
Popular Vinyl WIndow Styles
Casement windows: These windows swing out like doors and typically come with multi-point locking systems featuring three or more steel or reinforced locks along the edge of the window. For maximum security, go for casement windows with at least three reinforced locks. They're much harder to break into.
Single- and Double-Hung Windows: Single-hung windows open at the bottom part for ventilation while you can open up the top or bottom on a double-hung design. Adding double pane glass reduces noise in the home and prevents coolness or heat from escaping.
Sliding windows: These windows have two sashes that slide horizontally for entering and exiting. Unfortunately, standard sliding window locks, featured by many window companies, are often simple latches that can be forced open. 
You can improve security in this regard by choosing California Deluxe Windows which offers keyed locks and secondary sliding bolts or pins to lock the window shut. You can customize your choices so you reap the best in a secure window upgrade.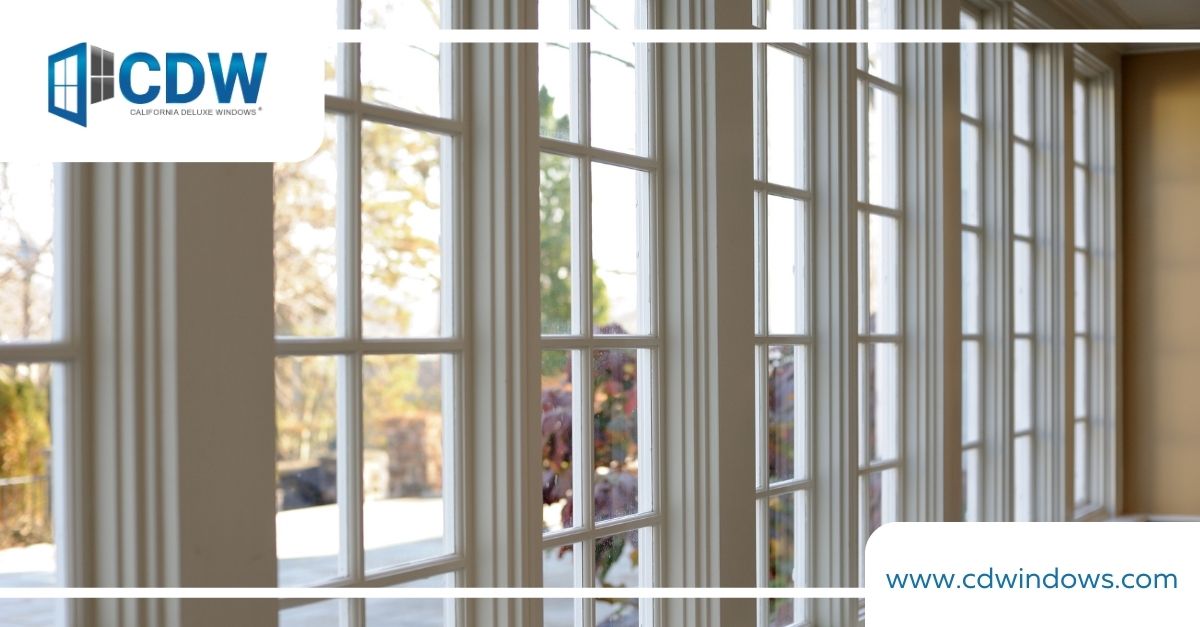 Replacing Your Windows Is Easy: Contact California Deluxe Windows Today
If you're planning on replacing windows, contact California Deluxe Windows for an in-home consultation today. Improve your energy efficiency and get the security protection you need.