Not only does the Sliding Glass Door open up your living space, it is both secure and safe. Optimizing any living area, this ideal home upgrade separates but does not feel confining.
Originating in Japan in the form of traditional and distinctive entry points known as "shoji". They were only discovered by the  rest of the world after World War II. These architectural doors, room dividers, or window dividers were then made of translucent or transparent materials on a lattice frame.
The shoji screens provided privacy, and were often made with paper. Post-war developments led to the emergence of sliding glass doors as one of the most popular choices worldwide. Glass replaced flimsier materials, ensuring durability and longevity. This evolution resulted in the space-friendly sliding glass doors commonly used in homes, condos, hotels, and other similar establishments.
Throughout the 20th century, advancements, such as plate glass sheets from Japan and floating glass technology from the UK, made sliding glass installations more affordable and readily available. 
Sliding glass doors are now a regular feature in various settings, including homes, schools, hotels, stores, medical facilities, trains, subway cars, vans, and buses. Their ability to optimize space and simplify automation have made them a preferred choice and worthwhile installation.
A Versatile Home or Commercial Improvement
Sliding doors offer versatility in configuration, with options ranging from one to four panel designs, making them ideal for patio entries. The number of panels used determines the expansiveness of the view and the extension of the living space outdoors. 
Using laminated or tempered glass and multiple point locking systems, a sliding glass door significantly increases safety. Therefore, you and your family are safeguarded from intruders as well as outside noise. The glass used reduces the decibel levels of outdoors sounds, so you can enjoy a more comfortable and peaceful environment. You can relax without getting distracted by the buzz of traffic or children at play.
That tempered or laminated glass makes the sliding glass door resistant to breakage – providing an additional layer of protection. Get your doors tinted and you can reduce your energy bill as well. Plus, the glass ensures that the cool or heat won't escape.
Do you want a door that smoothly operates? You'll find that a sliding glass door features an enhanced tracking system, thereby preventing derailment or sticking. Weatherproofing and seals also prevent moisture from seeping inside your home and keeps pests from entering. Therefore, if you have glass doors installed, you can say good-bye to worries like infestations, climbing energy costs, and mold and mildew.
What About If You Have Kids?
A stylish and contemporary access point, the sliding glass door is a great installation for families with children. Doors highlight child-safety locks that stop your little ones from opening the doors into pool areas.
In addition, automated doors have sensors that detect intruders or obstacles – reversing the door's direction. This prevents break-ins or accidents. You can integrate the door with your home security system as well. That way, you can enjoy the ultimate in security.
Because higher quality materials are used, you don't have to worry about warping or deterioration. Emergency overrides on the doors allow you to manually operate automated doors in case of unanticipated power outages or disasters.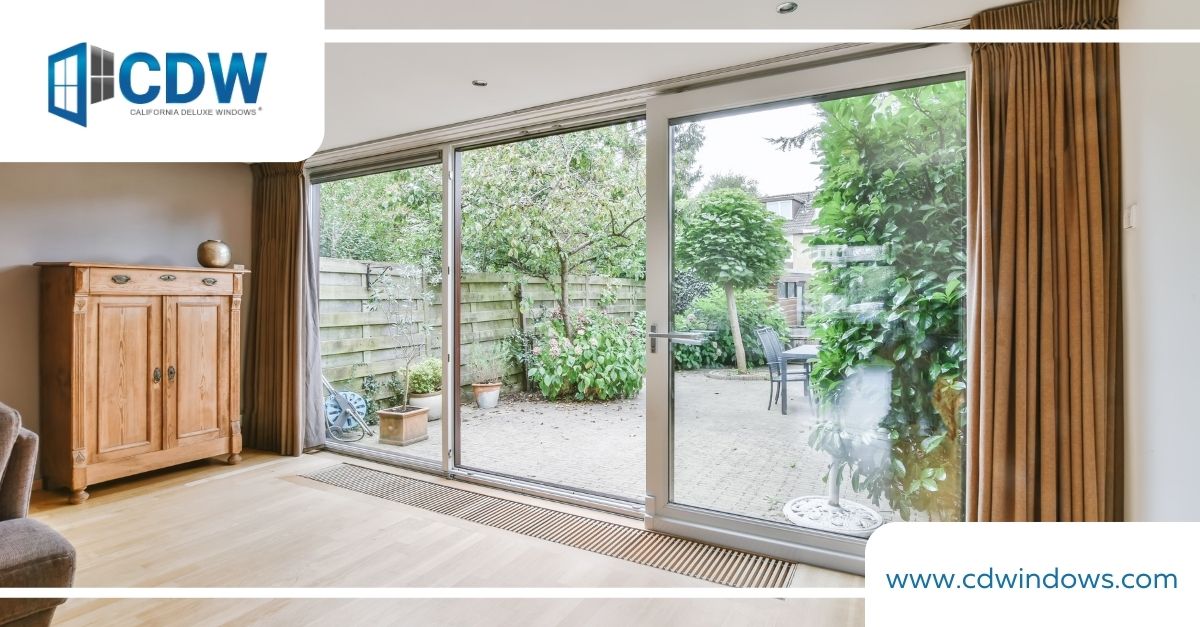 Call California Deluxe Windows for Further Details Now
It's an exciting time right now to install a sliding door in your home. Contact California Deluxe Windows for a home consultation now. Doing so will result in improvement in safety, dependability, style, and convenience.