THIS CUSTOM CATHEDRAL WINDOW WAS MANUFACTURES AND IS GOING TO REPLACE A CENTURY-OLD WOOD WINDOW THAT THE HOMEOWNERS HAD GIVEN UP ON.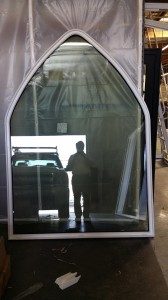 We did not have a chance to put this window in a more beautiful surrounding yet. It was just finished in our factory but we could not wait to show it to you because of its humongous size, you can probably judge by the reflection of the truck how large it really is. We here at California Deluxe Windows are almost certain that nobody else in Southern California could manufacture a window of this unique, custom shape and size while making it very energy efficient and offer a full warranty.
– From a bunch of very happy and proud people.
For more information visit www.cdwindows.com or call 800-639-9463.