THE WHY'S, THE HOW'S & THE HOW LUCKY WE ARE!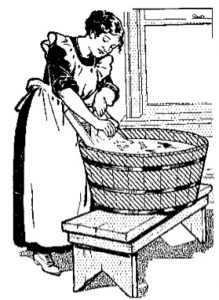 Spring is officially here. Naturally, you envision yourself frolicking through meadows, picking wildflowers, and experiencing the joy of a butterfly softly landing on your nose. That is, until reality sets in. — You've got a house to clean! Pouting while gathering up all your cleaning products isn't going to help. Neither is wondering how this annual ritual we call spring cleaning, got started in the first place…
THE HISTORY OF SPRING CLEANING
Before the invention of our modern HVAC systems people kept warm all winter by shutting themselves inside their homes kept toasty by burning coal, oil, and wood. By the time spring with its warmer weather rolled around, they would throw open their windows and doors, and OMG! You can only imagine how much accumulated soot and smoke was revealed. Spring Cleaning was birthed.
Additionally, before the invention of the washing machine, people had to wash all that soot and smoke from their drapes and comforters by hand. With spring's warmer weather (and no invention of the dryer on the horizon), these items had to be hung dry outside. Feeling a little better about your spring cleaning tasks, about now?

TIPS AND TRICKS FOR EASY CLEANING
So, you've successfully managed to hop over dust bunnies all year, but the time has come for you to face the music. In other words, dust off that dust mop, roll up your sleeves and get to work. Luckily, compared to spring cleaning in years past, our work today is a cinch. Here are just a few tips and tricks to make our tasks even quicker and easier.
Remove tarnish from silver easily with baking soda.
Clean lint from lampshades with a lint roller.
To get rid of bathtub scum, try water, vinegar, and lemon.
Freshen your washing machine by simply running a cycle with bleach, and then a cycle with white vinegar.
Put your damp sponge in the microwave for two minutes to kill germs.
And lastly…
Hire someone to do all of the above.
BUT WHAT ABOUT WINDOWS?!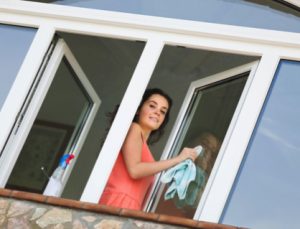 As committed to meeting your spring cleaning goals as you may be, it's easy to cower in the face of dirty windows. Although the outcome is well worth the trouble, the thought of how much effort it will take can cause you to put away our spray bottle, and close the drapes until next year… Except if you happen to be a proud owner of vinWindow Maintenanceyl windows by California Deluxe Windows. They're scratch resistant, virtually maintenance-free, and easy to make sparkle inside and out. Whether you have the single hung, double hung, slider, or tilt-turn models, the sashes swing in for easy cleaning. This means no dangerous ladders to climb when cleaning the outside of your windows. And that means you'll be done with chores, and out enjoying the sounds of singing birds, in no time.
Hope may spring eternal, but if you're hoping to get out of spring cleaning this year, no need to fret. Due to living in the modern age, and making some good purchasing choices like virtually maintenance-free, easy-to-clean windows, you may have a renewed attitude about spring cleaning, and that may have you singing like a bird!
RESOURCES
http://blogs.britannica.com/2008/04/spring-cleaning/
http://www.wisegeek.com/what-are-the-origins-of-spring-cleaning.htm
https://bloodcenterblog.stanford.edu/tips-tricks/spring-cleaning-why-do-we-do-it/
http://www.babble.com/home/25-amazing-spring-cleaning-tips-and-tricks-2/mages
IMAGES
Spring Art
http://whimsicalfengshui.com/wpcontent/uploads/2012/04/spring_time_3_1920x1080.jpg
Pioneer woman
http://freepages.genealogy.rootsweb.ancestry.com/~forontario/washday.gif
Washing machine
https://www.pinterest.com/pin/373446994070843582/
Tilt turn window (NOT A CDW IMAGE!!)
http://www.gdhousen.com/photo/pl983285-inward_tilt_turn_window_security_tilt_turn_system_thermal_break_aluminium_tilt_and_turn.jpg